100% Online CPO Certification Texas | Pool Certs
Become A CPO Certified Pool Operator In Texas With Our 100% Online Course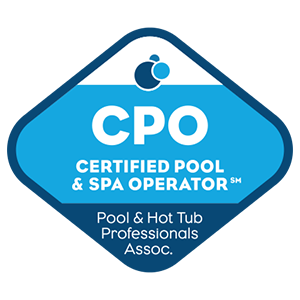 $350.00
Start Our Certified Pool Operator Course Today
If you want to work on Texas pools, you need to be CPO certified. Pool Certs can get you same-day CPO certification with our 100% online course. All you need to do is sign up, pick an exam day, and complete the course.
Getting your pool operator certification will keep you updated on the latest trends and regulations surrounding pool construction and maintenance. If you want to service pools in Texas, you must get your CPO Certification!
Register for a Class Today
How the Process Works
Our CPO Course Is 100% Online
Don't worry about having to drive to some boring classroom and sit for a day's worth of lectures and then take a proctored exam. At Pool Certs, our CPO course is 100% online and can be completed from anywhere with an internet connection.
The final exam is held via Zoom and training can be completed in as little as one day.
Be sure to check the schedule to see which upcoming dates are available for Texas residents.
Why Use Pool Certs for CPO Certification?
Outside of the convenience of having a 100% online course and final exam, Pool Certs is taught by an experienced pool professional - Chad Bland! Chad has over 10 years of experience working with both commercial and residential pools and spas. We take pride in the quality of our course and are confident that you will walk away with your CPO certification.
CPO Course Learning Outcomes
Through our course, you should be able to explain the role an operator plays in pool operation. You will be able to draft a good management plan and be knowledgeable on all the steps.
Students that pass will be able to identify physical, chemical, and biological hazards and be able to minimize or eliminate those conditions. This includes learning proper testing and maintenance protocols per Texas law.
How Our Texas CPO Course Works
Step One: Choose a Class
Browse through our available exam dates and sign up for a class that fits your schedule.
Step Two: Complete the Course on Your Own Time
The 100% online CPO course can be completed at your own pace. It typically takes anywhere between 8-10 hours on average and many students complete the course and exam on the same day.
Step Three: Take Your CPO Exam
After going through the mandatory review period, you can take the final exam via Zoom with a certified instructor.
Step Four: Receive Your Certification
Once you pass your exam, you can instantly print your results. You will receive an electronic copy within 2 weeks and a paper certification in the mail within the month.
Complete Your Online CPO Course When You Want To
Texas residents! Sign up for our CPO Certification Course today.
Hear What Other Students Have to Say
At Pool Certs, we're proud to have helped many people become certified pool operators. Check out our student testimonials to learn more about our online training platform
"You definitely made the CPO journey much easier! You gave me the wiggle room I needed to continue doing my job while getting this certification. I had been worried about the exam but after your guidance and review of examples, it made me much less nervous about the exam!"

-LIAM D, Certified 10/14/21
" I'd rate you 5 out of 5 stars all day"

-SCOTT K, Certified 10/13/21
"I recently signed up for the CPO certification class with Chad Bland at Pool Certs. I had a few questions and he answered them all very quickly and sent me the CPO handbook very quickly as well. During the in-class day of the school, he went over several of the formulas for determining dosing, pool gallon calculations, etc. which was extremely helpful. He gave us his phone number, email address, and said that if we had questions to text, email, or call him. I have done all three and he has been an excellent resource. I highly recommend Chad, as I believe he really is a pool professional."

-DAVID P, Certified 08/19/21
Ready to Get Started?
At Pool Certs, we're ready to help you get certified. Select the exam date of your choosing to get started. Don't hesitate to contact us if you have any questions.
CPO Virtual Course Details
(IMMEDIATE CLASSES ARE AVAILBLE - EMAIL CHAD@POOLCERTS.COM)
1. Select a date that works for you.
2. Select your state.
NOTE: Florida has an extra fee of $20. See below for more details.
3. Complete The Pool Operator Primer (POP) self-guided 8-10 hours online course.
4. Complete via Zoom the CPO® review and CPO® exam with your Certified CPO® Instructor
(7am-3pm Pacific / 8am-4pm Mountain / 9am-5pm Central / 10am-6pm Eastern)
***IF YOU NEED YOUR CPO IMMEDIATELY - PLEASE EMAIL CHAD@POOLCERTS.COM***
SCHEDULE YOUR CLASS:
YOUR INSTRUCTOR - CHAD BLAND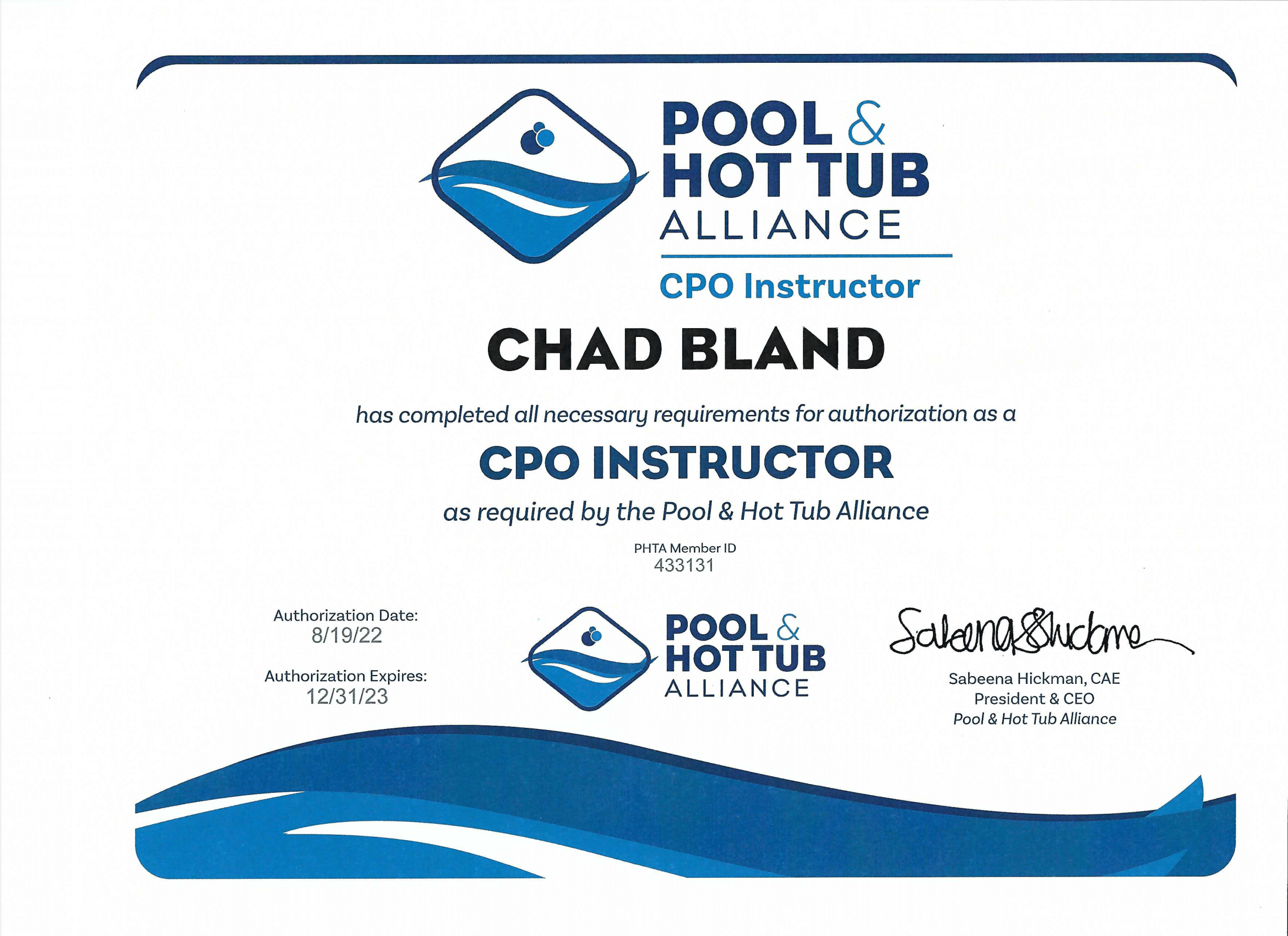 10 year experienced "Pool Guy" by career, still servicing commercial and residential pools. Here to help you learn what you need to know and meet all the requirements of this certification in an easy to do format. I promise you that! Chad Bland
---
CPO Virtual Course Details
To sign up more than one student please just increase the amount in your Cart
100% ONLINE Course
SPECIAL NOTE: AN EXTRA FEE FOR FLORIDA
Florida People Cert Information: The State of Florida Health Department requires a third-party proctoring service known as People Cert to proctor the student taking the exam. The process regarding using People Cert will happen as follows: 1) Schedule your exam date and time with People Cert. 2) Prior to the day of testing, you MUST re-enter site and click on "Open Portal" to connect to People Cert to setup your security profile and test your computers compatibility. 3) On the day of testing, at the time of testing or slightly before re-enter the registration sit and click on "Start Assessment" to connect to People Cert to begin your test. "Open Portal" changes to "Start Assessment".
Requirements: Computer and Zoom Access
CPO Course Design
The CPO certification course is designed to provide individuals with the basic knowledge, techniques, and skill of pool and spa operation. This body of knowledge is covered in the eighteen (18) chapters, as well as the glossary and appendices, of the PHTA Pool & Spa Operator Handbook. NOTE: The PHTA Pool & Spa Operator Handbook is not a substitute for state or local regulations. This course is 100% online.
CPO Learning Outcomes
At the conclusion of the CPO Certification course, you will be able to:
Explain the role an operator plays in pool operation
List the components of a good management plan
Develop a network of resource materials
Develop a list of personal contacts
Identify physical, chemical, and biological hazards associated with the pool environment
List the steps to follow to minimize physical, chemical, and biological hazards associated with the pool environment
Identify the local regulations that apply to safe pool
identify the industry standards governing pool operation
Explain the importance of a positive relationship with local regulatory agencies
Explain the need for testing and documentation as it relates to pool and spa operation
perform pool calculations as they relate to pool and equipment measurements and chemical usage computations
CPO Certification Takeaways
Pool management
Water quality management
System components
System maintenance
Pool and spa design
Special needs of hot water spa environment
Any person who successfully completes the CPO certification training and passes the applicable exam with a grade of 75% (37 points) or higher may be certified. The CPO certification and registration is valid for a period of five (5) years from the date of course completion. Based on your results, you should receive your CPO certification via email within 3-5 business days. You will also receive your certification via mail the following month.